Realistic Paintings
of
Brian T. Keller
Midwestern Lake Shore Series
Oil Lamps
Photo Realistic Original Paintings
Full Sized Reproductions of Realistic Art

Small Reproductions of Realistic Paintings
Realistic Paintings as my Goal
My career as a painter of realistic art and naturalistic images has taken me across America, and I have experienced the natural beauty that this land has to offer, from the sweep of Western landscapes to the intimacy of inland lakes and remote ocean beaches. My photo realistic paintings and art are created to a large part from these experiences. Even though the finished paintings are imaginary creations, aspects of each work of my art are inspired by my photographic studies, drawings, and impressions that I have gathered from the places that I have explored.
Nocturnal Series


Rock Island
The intent of each of my realistic paintings is to invite the viewer into my art with the illusion of being there in the picture. To accomplish this, I employ a wide range of techniques, including adding rich details and textures which, combined with selective use of highlights and shadows, create in each piece the sensation of three dimensional reality necessary to accomplish my goals. My photo realistic paintings are meant to be experienced, not just viewed, and I strive to add elements to each one that enhance that experience.
Seascape and Beach Series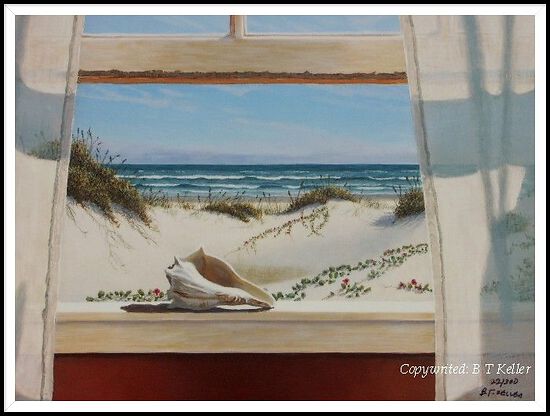 The Shell
Whether they are naturalistic outdoor scenes or more intimate interior settings, the foregrounds are filled with bits of detail that are created to enrich the illusion that these are real places, and that the viewers are taking part in the painting. This use of detail in my realistic art and photo realistic paintings is also my best vehicle for capturing light. It is the use of highlights and shadows, captured in the surfaces and textures of each scene, that are intended to make the final piece an invitation for the viewer to experience.
Western Landscape Series


Hard Winter